Shop


---
Show Your Troop Pride! 
Show your love for your troop with a t-shirt or hoodie made especially for you. Choose from three colors - Light Pink, Sport Grey, or Carolina Blue. You can add your troop numbers for FREE! 
Place your order by the first of the month (September through May). Orders will be ready for pick up at your local Service Center.
---
Reusable Bag
Purchase your reusable bag at any GSNI Council Store or Girl Scout Express for $5.00. Everytime you bring your bag back, you will receive 10% off one item. Using one reusable bag for a year can replace 300 to 700 plastic bags
---
Mobile Store
Would you like us to bring the store to you? We'd love to, but you have to request it! The Choose Your Adventure Mobile Store can roll up at your next Service Team meeting or Service Unit event if you act fast. Contact us to reserve your spot today! 
Also, stay tuned for more information about requesting the Choose your Adventure truck for parades!
---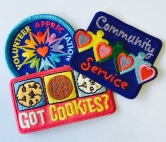 Special Order Fun Patches
Choose from over 4,500 patches from our catalog. All fun patches are $1.50 in price. Shop in person or call in your order. Place your order by the 1st and 15th of each month.