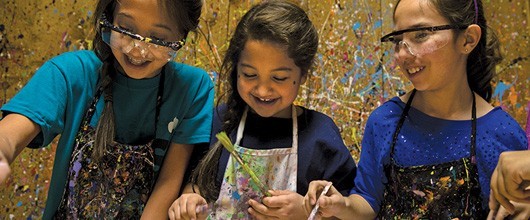 Schedule Your Own
Do your Girl Scouts have a busy calendar? Schedule your own badge workshops, program events, and other activities using our resources!

Troops, groups, or individuals can check out one of our many "Programs-in-a-box" from our Resource Centers to help complete a badge or even just to make planning and prep easier for troop leaders! During the Summer of 2018, GSNI updated and revamped many Programs-in-a-Box.
Reservations are required for all Programs-in-a-Box. To make a reservation for pick up and drop off, contact Customer Care at 1-844-GSNI-4-ME, or email customercare@girlscoutsni.org.
Schedule your pick-up a minimum of three weeks prior to ensure your items are ready for you. At the time of scheduling, you will also make your appointment for returning the item(s). Items will not be available for check out on a "drop in" basis.
At pick up, you will be required to pay a deposit. Deposits can only be made by credit/debit card. Deposit costs vary. Deposits are returned in full if all items are returned in good condition and on time. If items are missing or damaged, additional damage/loss fee will assessed. The late fee is $1 per week day.
If using an item for a large group, service unit event, or camp, please contact Customer Care to schedule a Programs in a Box consultation.  All deposits and fees are applicable.
For a full list of current Programs in a box, including deposit fees, badge connections and levels please check here.  
---


Become a GSNI Preferred Partner

We are excited to provide your organization with an incredible opportunity to partner with the Girl Scouts of Northern Illinois Council. As a preferred partner, you will be integral in providing girls with programs centered on the Girl Scout Leadership Experience. Girl Scouts is the world's foremost organization dedicated to developing confidence and leadership in girls. In Girl Scouts, girls take the lead, with adult supervision, to design fun and challenging activities that empower them to discover, connect, and take action around issues that concern them. 
To learn more about our Preferred Partner Program, simply fill out the form below and a member of our team will contact you!